Olympus OM-D E-M10 Mark II
The Affordable OM-D!
The Olympus OM-D series is one of the most capable underwater imaging systems available, with an aggressive price point, an amazing feature set, and diverse lens lineup. The E-M10, released in Jan 2014, included most of the core features of the more expensive E-M5 and E-M1 cameras in a less expensive body. This camera was an incredible value, and the refreshed Mark II brings even more functionality to this aggressive price point. Olympus has added their acclaimed 5 axis in body image stabilization, upgraded the electronic viewfinder to a 2.36 M-dot OLED, High Definition Video at 60 fps, and 4k time lapse functionality while holding a very attractive $650 retail price.
The NA-EM10II Housing
No other underwater housing manufacturer can match the experience of Nauticam in mirrorless camera support. NA-EM10II is the sixth Olympus Mirrorless Product designed and manufactured by Nauticam, and the sixteenth model built around the Micro Four Thirds lens lineup! Twenty micro four thirds lenses, including all popular lenses for underwater photography, are supported by this system. This experience results in the most refined, reliable, and ergonomic solution available today for the Micro Four Thirds user.

The compact design is sculpted to provide convenient access to shutter release, front command dial, rear command dial, Fn1, Fn2, Movie, and even the EVF/LCD selector lever at the photographer's right hand. A rubberized zoom and focus control provides ergonomic, tactile lens control.

More than just good looking, this is a rugged housing, ready to tackle thousands of hours of underwater abuse. Crafted from solid aircraft aluminum, the housing can reach depths of 100m with ease. The secure single rotating housing latch opens the housing back. The camera drops in easily, with no controls needing to be preset. The rear mounted housing o-ring makes maintenance simple. Dual fiber optic synch ports are standard and take advantage of the camera's built in flash for strobe triggering. To make the most of the E-M10 Mark II's excellent electronic view finder (EVF), Nauticam allows for installation of the acclaimed 45º and 180º magnified viewfinders, providing the ultimate in composition and focus ability. NA-EM10II accepts the new MIL Style Viewfinders (32205 and 32204), so no accessory window is required to mount the viewfinder!

The NA-EM10II is designed by photographers for photographers. Look no further for state of the art.
Integrated Vacuum Monitoring and Leak Detection
Circuitry included as standard equipment provides constant monitoring of water tight integrity when combined with an optional

Nauticam

M14 Vacuum Valve (PN 25611).
Extensive Accessory Lineup
The range of

Nauticam

accessories is unmatched, with multiple accessories available to customize the system to individual needs. A variety of lens ports support all popular lenses. Accessory lenses, like the revolutionary Compact Macro Converter (PN 81301) and Wet Wide Lens (PN 83201), attached with an easy to use bayonet system.
Locking Mounting Tray
A new cam lever system securely locks the camera in place, providing strength and precise positioning even when a heavy lens is mounted.

The camera, with lens and zoom gear mounted, drops into the housing. No controls need to be preset!
Stainless Steel Handle Brackets
Stiffening handle brakets are included with the housing, providing a solid "wobble free" attachment when using

Nauticam

Flexitray (PN 71207) and Easitray (PN 71206) with heavy lighting systems. Multiple lanyard attachment points are included in the brackets.
Shutter Release Extension
The NA-EM10II housing is designed for a right hand on the grip shooting style, but this isn't always the best solution for users with very large hands, or in cold water with thick gloves. Our shutter release extension was designed to enhance ergonomics in these configurations, and is included with every housing at no charge.
Compact Design, Advanced Features
The housing is sculpted to fit the E-M10 II camera like a glove, and extensive camera control ergonomic enhancements are made to ensure that the housing is as easy to use in water as the camera is on land.
Rubberized Zoom/Focus Knob
A large, rubberized zoom and focus control knob provides easy lens control with excellent tactile feel.

The knob disengages, providing more working space for quick lens changes.

The iconic

Nauticam

port locking lever allows effortless port changes. No twisting required, just press and lock.
Lens Bonanza!
It's all about the glass, and lenses are the key to terrific photography. This has always been a strength of Olympus systems, and the lineup is now stronger than ever thanks to the Nauticam Wet Wide Lens (WWL-1).

WWL-1, paired with an Olympus 14-42mm f/3.5-5.6 EZ Lens, provides a full zoom through ultra wide angle field of view. In our tests, this lens exceeds the corner sharpness and clarity of even very good micro four thirds wide angle lenses behind dome ports. WWL-1 will focus on its front element for unmatched close focus side angle performance, and full zoom through means you can zoom to crop in camera for tighter framing.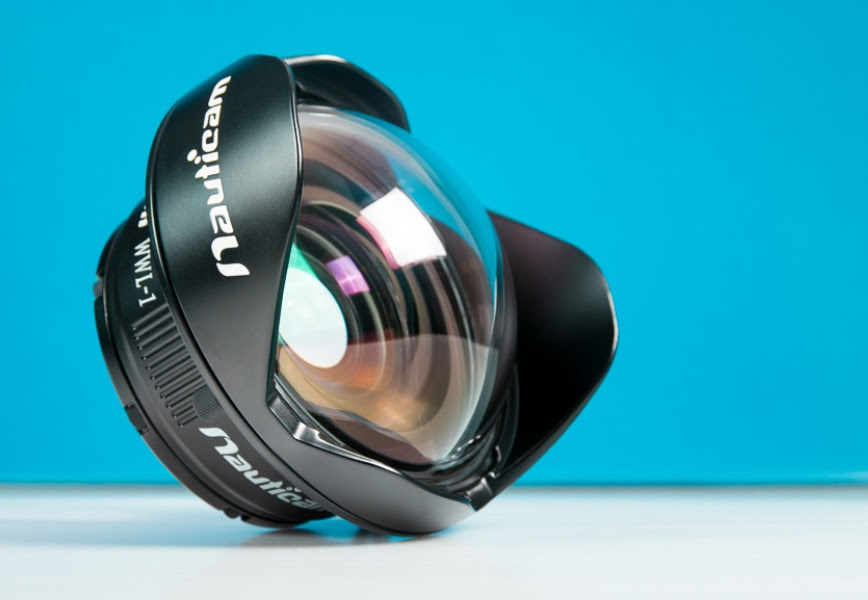 WWL-1 is mounted via a quick change bayonet system (PN 83213) that allows fast and easy one handed mounting and removal. An optional lens caddy provides a place to park the WWL-1 lens when not in use. For closeup and macro work, the Nauticam Compact Macro Converter (CMC-1, PN 81301) allows images smaller than 1" wide to be captured. Ultra wide, mid-range and macro imaging capability, all on the same dive!

The m4/3 system supports a large range of high quality lenses produced by Olympus and Panasonic (partnering with Leica), and third party lenses from Sigma are starting to appear. Several lenses that perform extremely well underwater are available (and reasonably priced!). Some examples:
Olympus M.ZUIKO DIGITAL ED 12-50mm F3.5-6.3 EZ: The ultimate jack of all trades tool, this lens covers a very usable mid range, and features a unique macro mode. Shoot dolphins and nudibranchs on the same dive!
Panasonic Lumix G Fisheye 8mm/F3.5: This 180º fisheye lens focuses close and is razor sharp. Combines with a small port, there is no better CFWA (close focus wide angle) option on the planet.
Olympus M.ZUIKO DIGITAL ED 60mm f/2.8 Macro: This is an ideal macro lens for m4/3, and by adding the

Nauticam

CMC, it becomes a super macro monster. Imagine filling the entire width of the frame with something only 8mm wide!
Panasonic Lumix G Vario 7-14mm f/4.0 ASPH: The 7-14mm is a rectilinear lens, ideal for shooting people or sharks or wrecks... subjects where the fisheye distortion is not welcome. On the wide end, this lens 114º wide, ideal for getting close to subjects to reduce the amount of water shot through. But a zoom gets to 75º - ideal for reaching out to that subject that is a little more skittish. The very similar Olympus M.Zuiko Digital ED 9-18mm f/4.0-5.6 can serve the same basic role at a lower cost.
There are many more options for the underwater photographer, including any of the several 14-42mm options, the Panasonic Lumix G X VARIO 12-35mm F2.8 ASPH. POWER O.I.S., Olympus M.ZUIKO DIGITAL ED 12-40mm f/2.8 PRO, Panasonic Lumix G Vario 12-32mm f/3.5-5.6 ASPH, Panasonic Lumix G 14mm F2.5 ASPH, and the Leica DG Macro Elmarit 45mm F2.8 ASPH.
Viewfinder Options
A clear view for fine focus and composition is critical for successful underwater photography, and nothing beats a magnifying viewfinder. These viewfinders use distance, not closeup vision, and provide a large, clear view of the high resolution Olympus electronic viewfinder. Available in angled 45º (PN 32205) and Straight (PN 32204) formats, both viewfinders have external dioptric adjustments for dialing in perfect correction matched to the photographer's eyesight.
45º and 180º Magnifying Viewfinders provide a large, clear, corner-corner view of the Olympus 2.36 mdot LCD Electronic Viewfinder.
Integrated Vacuum Check and Leak Detection System
The

Nauticam

vacuum check and leak detection system is available with NA-EM10II as standard equipment. Combined with an optional vacuum valve (PN 25611), this monitoring system provides constant updates on the water tight and safe-to-dive status of the housing. A simple coded LED lighting system lets the user know that the vacuum is solid, or that the housing is losing vacuum. Leak detection is built into the same circuit, so if there is water intrusion, an audible and visual indication will occur.
Flash Connectors for Inon S-TTL
Reliable automatic flash exposure is available with the NA-EM10II and a variety of optically fired flashes. The Inon Z-240, D-2000, S-2000, and Sea & Sea YS-D1 strobes provide automated lighting, precisely reproducing the camera's onboard flash at a proportionally greater intensity. This system yields accurate automatic TTL flash performance – even in manual mode - with no electrical sync cables to flood! The NA-EM10II comes fiber optic ready and accepts standard Sea & Sea style bushing connections.

Nauticam

Fiber Optic cables, available for both Inon and Sea & Sea strobes, provide the best light transmission and therefore more accurate TTL of any fiber optic cable on the market.
Strobes can be attached to the housing via optional strobe mounting balls secured to the handles of the

Nauticam

accessory tray systems or a single strobe mounting ball location on the housing. The housing also features a cold-shoe mount for a focus light or other accessory mounting options
Recommended Accessories
WWL-1, 83201
CMC-1, 81301
M67 to Bayonet Mount Converter, 83213
180º Enhancing Viewfinder for MIL Housings(32204)
45º Enhancing Viewfinder for MIL Housings (32205)
Flexitray II with Left Handle (71207)
Adjustable Right Handle II (71208)
Patent Pending Super Macro Converter (81201)
M14 Vacuum Valve (25611)
Complete line of flat/dome ports for all major lenses, available in acrylic and glass
Fiber optic cables for Inon (26211) and Sea&Sea (26212)
Full line of mounting accessories for lighting, including mount balls, strobe adapters, arms, clamps, and specialty items
Multiple styles of lanyards
Lens holders, including flip-up